MAD COOL – THE FESTIVAL
August 19th 2019 @ Valdebebas, Madrid
Mad Cool is the biggest summer festival of Madrid, it gathers on 3 days the great artists of international and national music groups. Do not miss this great event every year to enjoy the best music trends.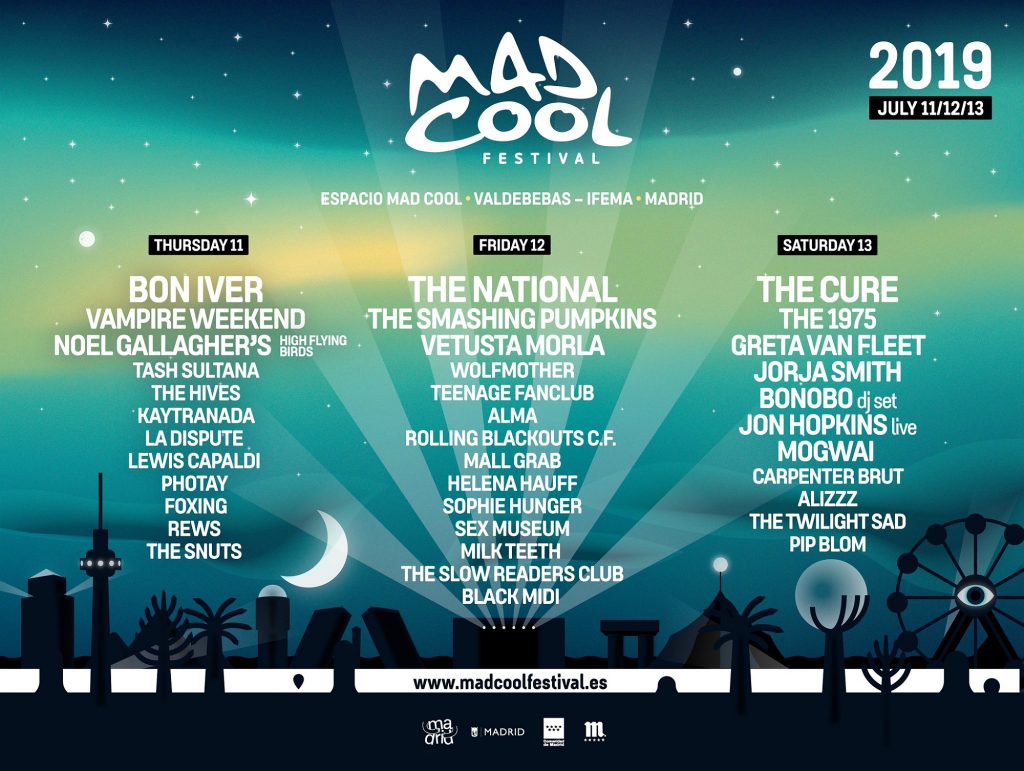 All the International Bands
The best festivals in Madrid !! Come and enjoy the best international musical trends for 3 days !! The fourth edition of MAD COOL took place on July 11th, 12th and 13th, 2019. The Madrid big Festival. It has grown steadily since its first payment in 2016. It is held in the Mad Cool Space, a space of 100,000 square meters located in Valdebebas – Ifema. The prices to enjoy the festival a day are around 80 € and 150 € in VIP. In VIP you have access to the lounge with cash bar and small stalls of hamburgers, hotdogs, sandwiches and other snacks. The pass for 3 full days is about 150 €.
From its creation, Mad Cool has always chosen to make posters filled big international stars. Which makes it a record time for a reference on the European festival scene. In 2019: The Cure, The National, Bon Iver, The Smashing Pumpkins. The prophets of rabies, Noel Gallagher, Vampire Weekend, Vetusta Morla, Jon Hopkins, Lauryn Hill, Mogwai, Teenage Fanclub, Hives. 1975, Chemical Brothers, Iggy Pop. Cat Power, Gossip, Empire of The Sun, Johnny Marr and Disclosure, among others, form a line-up that promises to be spectacular, another year.
Rosalía and Bring Me the Horizon also opened the Mad Cool Welcome poster. Party 2019, opening day with which the Mad Cool Festival wishes to celebrate, on July 10, the beginning of its fourth edition. For the first time, it will take place in the same area as the festival: Valdebebas. Of course, with a reduced capacity. Metronomy, Lykke Li, The Cat Empire, Don Broco, The Amazons, Viagra Boys, Whispering Sounds, Griz, The Perrots, Anier, Fusa Nocta, Blake and Favx also occurred.