Hala Madrid!
A legendary club
August 27th 2019 @ Nuevos Ministerios, Madrid
| | |
| --- | --- |
| From the presidential stand to the locker room, take advantage of a Priority Access to visit behind the scenes of Bernabéu. This stadium, home to Zinedine Zidane, Sergio Ramos, Cristiano Ronaldo and many others, is one of the richest in history in the world of football. Thanks to this visit, the workings of the stadium will have no secrets for you. This self-guided tour includes access to the Real Madrid locker room, the Best Club Hall of History, the sensations room, the presidential platform, and the players' tunnel on the pitch. And, thanks to videos projected on site in the museum, you will have the chance to immerse yourself in the history and legacy of this iconic sports club. Of course, it is not only used by Real Madrid, this stadium has also hosted four finals of the European Cup, the final of the Champions League in 2010 and the final of the World Cup in 1982, won by Italy. Resuming: it is a place steeped in history. And, with a capacity of 85,000 people, it's a truly unique experience to be able to explore this cult place with only a few people, and let your imagination run wild. Combine a sightseeing excursion in the city of Madrid with a visit to the Santiago Bernabeu stadium, birthplace of the legendary Real Madrid football team. Discover the buildings that have made Madrid history, and admire the royal palace and the beautiful squares. Then go behind the scenes on a trip to the Santiago Bernabéu stadium and feel all the excitement of the place as you enter Real Madrid. Tourist attractions and football, the perfect mix! | |
Open every day of the year except December 25th and January 1st.
Prices
Adult: 25 €
Child (up to 14 years old): 18 €
Adult Madridista: 17 €
Madridista Junior: 13 €.
Free for socios on presentation at the counter of the map of socio (not the subscription). Combined school offers are possible.
The visit of Santiago Bernabéu is done with or without audioguide and includes: the panoramic view of the stadium, photo-montages, the field, the presidential box, cloakrooms, the tunnel, the benches and technical areas, the press room and the shop. Because of the various events taking place at the Santiago Bernabéu stadium, the Tour Bernabéu could see its schedule and its route reduced, the visitors being informed at the counters, on the website and at the gate of the Tour.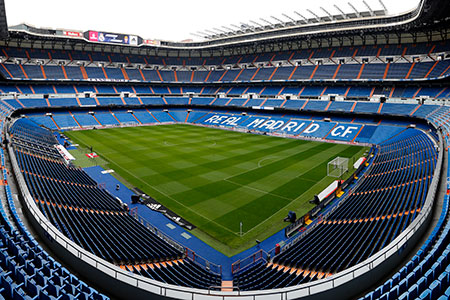 During the week (excluding match days):
Monday to Saturday: 10:00 to 19:00 h.
Sundays and public holidays: from 10:30 to 18:30 h.