SAN ANTÓN MARKET
An explosion of diversity
September 18th 2019 @ Chueca, Madrid
The history of the market begins in the 19th century with a market of wooden crates called "San Antón". His name is given by being next to the parish of San Antón. During the civil war, the "market" was in full defense of Madrid. The first building was built under the mandate of the consistory of Madrid. It was inaugurated in 1945 as part of the project of architect Carlos de la Torre and Costa. Mayor Alberto Alcocer will attend this event during his second inauguration. The market is experiencing a booming and declining trend in the different periods of the twentieth century, as well as changing neighborhoods and consumer habits.
The Mercado de San Antón is located in Chueca – Chueca metro station
Chueca

The Mercado de San Antón is in the Chueca neighbourhood, the nearest metro station is "Chueca". Following the mixed model, spaces for sales stands and eating places are designed. In May 2011, the new market was inaugurated with a renovated building. Therefore, in this renovation, new services are offered such as restaurants, bars with terrace, tasting products. At Mercado San Antón you always have a good atmosphere, whether on weekends or during the week, you have as many Spanish people as foreigners and tourists.

FIRST FLOOR: It is dedicated to the sale of perishable products. It is divided into 10 places where visitors can find the products that have placed Spanish cuisine first in the world.Fishmonger, butcher, delicatessen, etc. They have the best products and the most varied. Wonderful fish or seafood, Iberian cold cuts and garden products meet in unique positions, also in terms of design.
This floor also has a gastrobar where to take, in the form of tapas, sophisticated dishes.
SECOND FLOOR: It consists of 10 positions of "show cooking / take away".It is an ideal space for the visitor to feel like a protagonist and to choose from a wide range of places to eat and drink. A stand selling seafood, another for smoked products, a Japanese, a canary, a confectionery, a Greek, a butcher, a Spanish tapa or a wine bar summarize the catering offer. In fact, from its peripheral bar, the panoramic view of the whole building is stunning. Therefore you will enjoy an unique sensory experience.

In addition, you will enjoy the Lebanese stand with mini kebabs, falafels and oriental food, as well another stand that offers seafood directly delivered from northern Spain, you have typical canary cuisine or a classic Spanish bar with tapas and traditional drinks.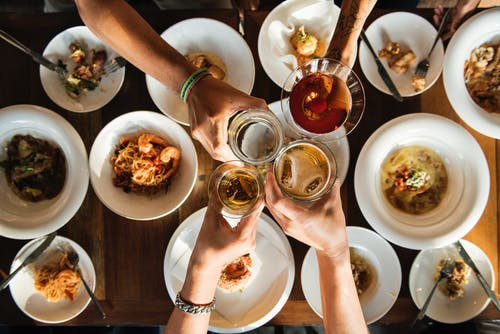 THIRD FLOOR: The restaurant with terrace "La Cocina de San Antón".It has a 400 m² lounge terrace with spectacular views of the Madrid skyline. It is supported by a cocktail bar, juices and snacks. Inside, it enjoys a restaurant of 300 m2 with a different atmosphere, cared for down to the smallest detail, you can enjoy refined and elaborate international or traditional cuisine. The menu contains all types of seafood and fish, tempura dishes too.
You will find different stands
THE STANDS
España
The classic, the traditional and typical. In this stand you will find a variety of tortillas, handmade croquetas, prepared one by one. Try the famous patatas bravas! You will enjoy a very pleasant experience thanks to the highly qualified staff. Moreover you will find several stands of tortilla de patatas / Patatas bravas / Alioli potatoes / Ham croquettes / Assorted cheese croquettes / Padrón peppers / Guijuelo Iberian ham / Selection of cheeses and Iberian tapas / Wings with homemade marinade / An unique recipe of sangria and much more!
Akma Mix
In Akma Mix you will find the most traditional dishes of Korea and part of Asia. In fact creative recipes are made with imported, fresh and high quality products. We can taste the authentic Korea. You will also find traditional and authentic drinks that are part of the culture. Immerse yourself in korean cuisine with this incredible fusion, a different style and intense flavors, in products and recipes that will surprise you a lot. Try the korean fried chicken with different korean sauces / Bulgogi (op or spicy) / Oriental noodles (Japchae, jajang, Thai pad) / Korean Takoyaki / Fried rice pasta with spicy sauce / Bao (vegetable, classic teriyaki chicken or bulgogi) / Dimsum-Mandu (chicken, veal, vegetables or spicy shrimp) / Traditional Korean appetizers / Korean foods and drinks (Soju, makgeolli, beer, soft drinks, snacks …) A great experience you cannot miss!
| | |
| --- | --- |
| | |
The Flower of San Antón
Come and let yourself be surprised by another greengrocer. Travel through the flavors. The colourful fruit shop "La Flor de San Antón" is a real temptation for the visitor, thanks to the detailed placement of their pieces and exotic dishes that can be found as tamarind, kunquat or mangosteen, among others.Located at the entrance of the market, "La Flor de San Antón" offers a wide selection of fruits and vegetables, domestic and foreign, as well as a gastronomic selection in which you can find prestigious brands such as Alemany 1879, Boré, Brestó or Camporel, among others.Fresh fruit salads / Natural squeezed juices at this time / Dry fruits / Nuts. In other words this is a real gastronomic journey.