UNIVERSIDAD EUROPEA DE MADRID
International
The UNIVERSIDAD EUROPEA DE MADRID prepares you internationally in many fields, 24% of its students come from international backgrounds with more than 88 different nationalities with 2000 international students. Additionally it has 80 bilingual programs with the possibility of studying in English, French or Italian including 300 international partnerships. The 5 investigation centers has national and international coverage. LA UNIVERSIDAD EUROPEA is committed to the employment of each student with a rate of 89% hired 1 year after the graduation.

Campus
The UNIVERSIDAD EUROPEA has several campus:
Canarias
Madrid – Alcobendas
Madrid – Villaviciosa de Odón
Valencia
Campus Online
Madrid city have 2 campuses divided into 2 areas, if you are a "Maker", the campus that suits you is Villaviciosa, if your project is to found a start up, your place is in Alcobendas.
The Madrid campuses are located here: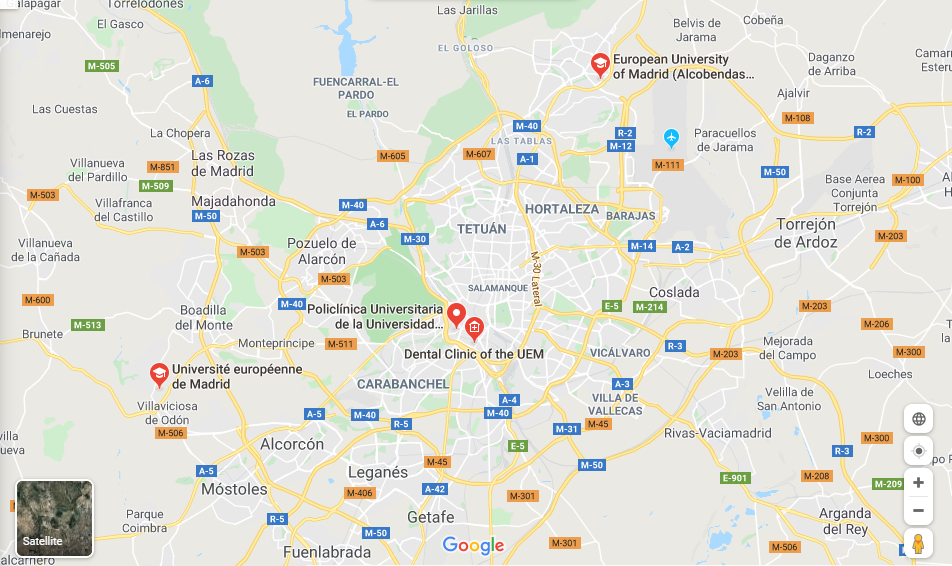 Global Academic Model
The UNIVERSIDAD EUROPEA strives each year to offer a global academic model that seeks to meet all the needs of today's society and evolution:
Highly qualified teachers.
Courses designed with a professional and global orientation.
A humanist educational model, centered in the disciplines to be developed.
A culture of quality and evidence with mediation and the continuous improvement of the educational experience.
A commitment to investigation as a source generating knowledge and improving the experience of students.
Academic Programs
Depending on your language and the discipline of your choice, you can choose your course:
University Master in Communication and Digital Entrepreneurship
University Master in Digital Architecture Design.
University Master in Biology and Technology Applied to Human Reproduction.
Master in Creation and Management of Audiovisual Content – Mediaset.
University Master in Integral Management of Clinical and Veterinary Tests.
University Master in Advocacy.
University Master in Marketing.
University Master in Architecture.
Superior Master in 3D Animation, video games and interactive environments.
Real Madrid
It also has a Masters in Sports Management in partnership with Real Madrid! The MBA in Sports management is the best master in sports management in Spain according to Eduniversal. There are 50 nationalities represented within the curriculum of the "Escuela Universitaria Real Madrid"and 40% of the students have the opportunity to carry out their internships within Real Madrid CF. Finally the partnership with Columbia University allows to carry out an intensive program in New York!