WORCENTER
The reference for office supply and printing stores in Madrid
WORKCENTER is the reference for office supply and printing stores in Madrid for individuals, students or businesses. They have a very efficient online service and telephone support to answer your questions and in some cases they place your orders to deliver them once they are ready in the store. In fact, they have all types of school, university and office supplies: pens, pencils, files, plastic sleeves, stickers, notebooks, erasers, glues, etc. You can carry out all your IT and office management such as sending e-mails, document scanning, color or black and white printing and much more. You can also make DHL shipments on request at the reception desk. The prices in general are reasonable according to your request.
There are several WORKCENTER offices spread over Madrid. These are open from Monday to Sunday from 8:00 a.m. to 10:00 p.m., opening hours can change depending on the office: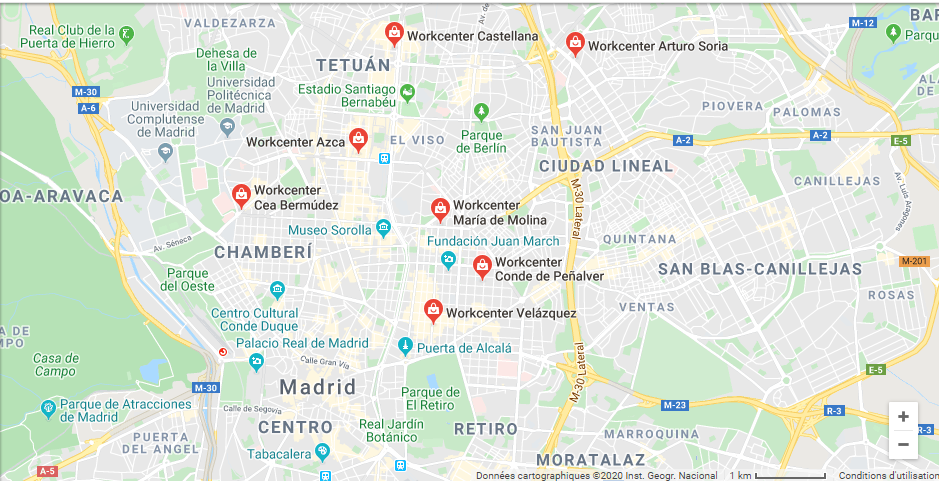 Impressions
With Workcenter you can print any type of file:
Personalized files.
Magazines and catalogs.
Printed vinyls.
Flyers
Triptych commercial brochures.
With WORKCENTER in 24 hours you can:
Print your photos.
Print your business cards.
Print your advertising signs.
Regarding laminated prints you have these possibilities:
Usual prints and copies.
A4 and A3 color or black and white paper.
Paper weights of 80gr, 90 / 100gr and 160gr.
Mixed black and white and color prints.
Without limits, minimum 1 copy.
Quantity discounts.
Plasticized A4 and A3 normal or adhesive.
You can print your thesis or dissertation printed and linked from 20 € with a delivery within 72 hours:
Editing service
It is useful to subscribe to the graphic editing service in the following cases:
You have an idea but you don't have graphic editing tools.
You do not have all the graphic elements that make up your corporate identity.
You want your photos or creations to be configured for a perfect impression.
You don't have much time to make your graphic creations.
WORKCENTER has a graphic editing service for the following supports:
Fotographic edition.
Graphic design of business cards.
Graphic design of flyer (A6, A5, DL).
Graphic design of leaflet (diptics or tryptics).
Graphic design of advertising panel.