Madrid: a city of Artists
Madrid is a city of artists. Most emblematic masters lived in Madrid streets spreading their knowledge and their talent across the centuries. In Madrid many artists have dedicated songs, texts, poems and movies recorded in these wonderful streets.
The greatest spanish masters
In the different museums are represented the greatest spanish and international masters. At the Prado you can contemplate the greatest art with Goya, El Bosco, Velázquez or El Greco. At Reina Sofia you will find works by Picasso with the famous Guernica and a collection of Dali very representative of his work.
"Where the roads intersect, where the sea cannot be conceived, where the fugitive always comes back, let's say that I speak of Madrid." Joaquín Sabina.
Engineers and architects since the 16th century express their refined technique in buildings ranging from the elegant Madrid of the Austrias to the current buildings or in the financial center, tall and twisted that threaten to pierce the sky. Photographers who capture the immensity of the city or the detail of the Almudena cathedral and the royal palace from the viewpoint of Principe Pio.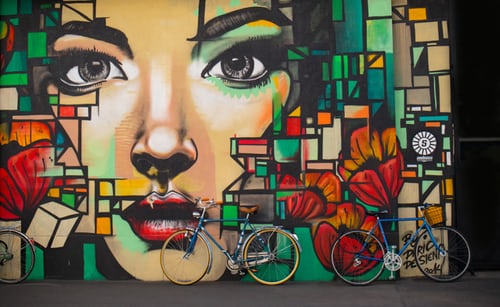 Cosmopolitan
Cosmopolitan, tolerant towards all, brimming with culture and diversity. Madrid does not stop for a minute, it does not sleep, it invites you continuously strolling, losing yourself in its streets and squares full of people, tourists and neighbors, who mix to form a cultural amalgam. The city invades you and you become a madrileño more willing to enjoy this unique atmosphere in the center of Spain. If you want to go shopping, Madrid offers a considerable offer. You can find all brands in luxury shops on Calle Serrano Barrio de Salamanca, buy clothes and jewelry from the most famous designers. In shopping malls or shops of all kinds you can buy quality products or enjoy them on the spot. The mythical Mercado de San Miguel or Mercado San Antón, La Paz or La Cebada offer all types of gastronomy for all tastes and wallets!
Lose yourself
Stroll through bustling streets such as Gran Vía or Calle Preciados, admire mythical buildings such as the Grassy, ​​Telefónica or Metropolis. Enjoy its theaters, shows that showcase the country's major works and musicals. Every December 31, we eat the 12 grapes while looking at the Puerta del Sol clock, the main square …. Relax while strolling through the Retiro Park, admiring the Palacio de Cristal pond, or lose yourself in the tumult of the neighborhoods of Chueca, La Latina or Malasaña, enjoy the great offer of small shops, pubs and bars they offer.